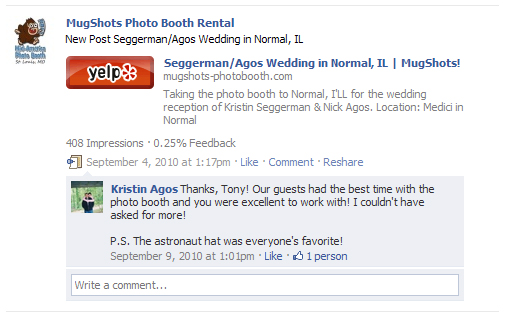 Thanks, Tony! Our guests had the best time with the photo booth and you were excellent to work with! I couldn't have asked for more! -Kristin Agos (via Facebook)
P.S. The astronaut hat was everyone's favorite!
Kristin like us so much, she looked us up when she joined Yelp and left a 5-star review there too… and it was on Valentines Day… now that's some love!
We were on a short timetable when we called Tony from MugShots.  He was very flexible and extremely easy to work with!  I couldn't have asked for more.  The photos came out great and our guests raved about the experience!  My husband and I agreed that the photos of his father and my mother acting goofy with the props were probably our favorite (although all of the pictures were hilarious).  🙂
If I had to plan the wedding all over again, there are a few things I'd change — but Tony wouldn't be one of them!  He's the best!
via Yelp.com review